On February 2, 1913, Grand Central Terminal opened. Grand Central is a commuter rail terminal located at 42nd and Park Avenue in Midtown Manhattan, New York City.
Grand Central Terminal was named for the New York City Railroad, which built the station and the two stations that proceeded it. Grand Central Station was the name of the station that was there before the terminal. However, the terminal has continued to be called by its predecessor's name.
The terminal was designed for intercity service so passengers could connect to all major lines in the United States. The terminal itself was designed and built with two primary levels for passengers. The upper level was originally for intercity trains, while the lower level was for commuter trains. This design was devised by New York Central Vice President William J. Wilgus, who hoped that the two-level design would smooth out the flow of people through the station. After 1991, when intercity service ended, the upper level was renamed the main concourse, and the lower level became the dining concourse.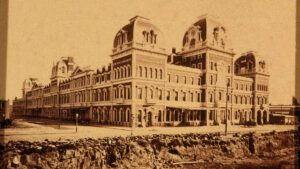 Grand central's interior was designed by Reed and Stem, an American architectural and engineering firm, and also by Whitney Warren.
Grand Central Terminal is one of the world's ten most visited tourist attractions. It averages over twenty million visitors annually and is one of the most photographed places in New York City and the United States. The terminal is also North America's second busiest train station, after New York's Penn station.