February 27, 1933.
It was just after 9:00 p.m. when a Berlin fire station received an alarm call that there was a fire at the Reichstag. By the time firefighters were able to arrive on the scene, the Chamber of Deputies, also known as the Lower House, was completely engulfed in flames. Despite their best efforts, much of the building was lost. By 11:30 p.m., the fire was out. However, Germany's problems were only beginning.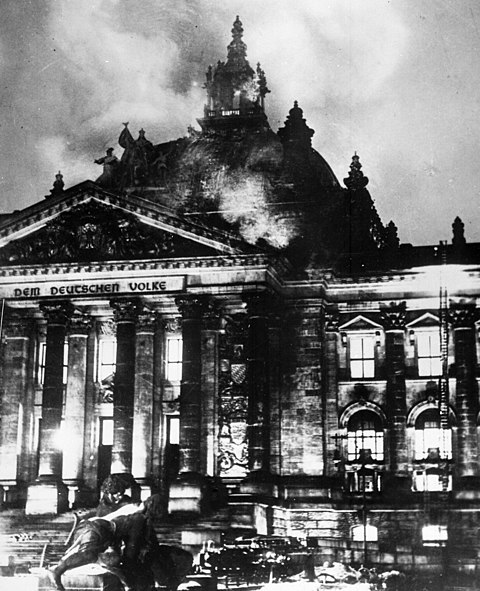 After police searched the building, they arrested Marinus Van der Lubbe, a twenty-four-year-old young man from South Holland. He claimed to have set the fire in an attempt to rally German workers against fascist rule.
Four weeks prior to the Reichstag fire, a new chancellor of Germany was sworn in. He was the Nazi leader named Adolf Hitler. Upon arriving at the scene of the fire, Hitler was met by Herman Goring, the Interior Minister of Prussia, who said, "this is communist outrage! One of the communist culprits has been arrested."[1] Hitler himself was said to have called the fire a sign from God. He claimed that it was a signal meant to mark the beginning of the communist revolt.
President Paul von Hindenburg signed the Reichstag fire decree at Hitler's request the next day. This degree suspended most civil liberties in Germany, including habeas corpus, freedom of expression, freedom of the press, the right of free association and public assembly, and the secrecy of the post and telephone. Germany would not reinstate these rights until after the Second World War.
The Reichstag fire was a pivotal moment in the lead-up to the Second World War. Hitler used the incident to gain power and begin his reign of terror. Some historians argue that the Reichstag fire may have been a Nazi false flag operation, an incident committed with the intent of pinning the blame on someone else.
---
[1] Louis Snyder, Encyclopedia of the Third Reich (New York: McGraw-Hill, 1976), 286-287.