On February 5, 1917, the Immigration Act of 1917 became law. This act aimed to restrict immigration by imposing literacy tests. It also created new categories of admissible persons and barred immigration from the Asia-Pacific zone. This immigration act was the most sweeping immigration act in American history up to that point.
Many groups, including the Immigration Restriction League, had supported literacy tests since 1894. In 1895, Henry Cabot Lodge introduced a bill in the United States Senate to impose a mandate for literacy for immigrants. The test would have required immigrants to read five lines from the Constitution. The bill passed but was vetoed by President Grover Cleveland.
In 1901, President Theodore Roosevelt discussed support for literacy tests in his first address. However, the proposed bill was defeated in 1903. The idea was again introduced in 1906, but the House of Representatives disagreed with the Senate's wording, and the whole thing was dropped.
The literacy test idea was introduced yet again in 1912. This time it passed, but President William Howard Taft vetoed it. In 1915, another bill with the literacy test requirement was passed, and this time President Woodrow Wilson vetoed it. Wilson believed that literacy tests denied equal opportunity to those who had not been educated.
'An act to regulate the immigration of aliens, and the residents of aliens in, the United States passed the House of Representatives on March 30, 1916. The Senate then confirmed the bill on July 31, 1916. President Woodrow Wilson vetoed the bill on December 14 of that same year. However, this time around would be different.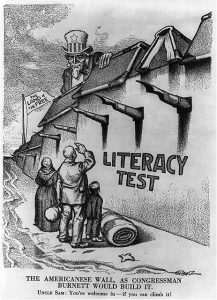 On February 1, 1917, the House of Representatives overruled President Wilson's veto. On February 5, the Senate did the same. The Immigration Act of 1917 was passed through the 64th United States Congress with the overwhelming majority necessary to override President Wilson's veto.
For the first time in United States history, European immigration was affected. This act barred all immigrants over the age of sixteen who were deemed to be illiterate. Literacy was defined as the ability to read thirty to forty words in a person's own language.
One section of the law specifically designated an "Asiatic barred zone." No person could immigrate to the United States if they were from Asia or the Pacific Islands. However, neither the Philippines nor Japan was included in this zone. The act also did not apply to those working in certain professional occupations and their immediate families. It also increased the head tax to eight dollars a person and ended the exclusion of Mexican workers from the head tax.